Your website is often your only chance to make a first impression with new customers.
As a business owner, you may be putting too much emphasis on design and not enough emphasis on the most important pages on your website. Yes, your website needs to look great, but more importantly it needs to create conversions. Your blog, landing page, opt-in page, thank you page, and 404 page all play an integral part in pulling customers through the sales funnel. They are the most important pages on your website for generating leads and increasing sales.
1. Your Blog: The Most Important Page on Your Website
Your blog is the center of a content-based inbound marketing strategy, and this makes it one of the most important pages on your website. When you publish content to your blog, it can then be shared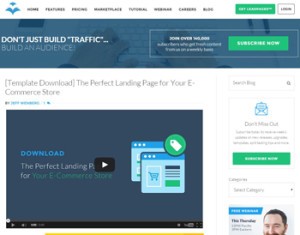 across multiple social platforms to broaden the reach of your content. Visitors who find the content via Twitter, Facebook, LinkedIn or Instagram can follow it back to your website where you can then direct their attention to more content, offers, and opt-in pages.
While your blog may appear to simply offer useful information for customers, it is really a marketing tool. The information you provide builds your image as a knowledgeable professional. You will become a source for help and problem-solving for people who need solutions. Everything in your blog needs to be focused on creating that image effectively. Your blog has to look good and be easy to navigate, but it also must use a language that is familiar to your potential customers. It has to provide useful information and inspire people to take action.
Your blog is also a stepping stone to your lead-capturing pages, and that is what makes it one of the most important pages on your website. In other words, your blog is important because it must draw in new website visitors and send them down the conversion path. Of course, it can only do its job when it is well-supported by the rest of your website.
2. Landing Pages: The Second Most Important Pages on Your Site
Targeted landing pages can be used to drive both organic and paid traffic from search engine results, traffic from your social media channels, and a place to go after visiting your blog. This creates a natural continuation of the dialog that grabbed the visitor's attention in the first place and makes your landing pages one of the most important pages on your website.
What else makes landing pages one of the most important pages on your website?
They offer more content control for complete and flexible messaging, media, and design.
They are aligned with keywords that match the specific interests of prospects making them a great tool for search marketing.
They allow for custom messaging and calls to action related to social sharing, "liking," commenting, and other ways of fueling word-of-mouth advertising.
3. Opt-In Pages: Third on the List of Most Important Pages on Your Website
Converting web visitors into customers is not always completed during the first website visit. However, crafting an irresistible opt-in page and following up with e-mail messages designed to build
a relationship with potential customers, conversion rates of 15 to 25 percent can be achieved.
As a web marketer, entrepreneur, or business owner, your primary goal should be capturing your web visitors' names and e-mail addresses. Opt-in pages are one of the most important pages on your website because that is where the capturing happens. Pages on your site with this much power should be taken seriously, and care should be taken to make sure they are optimized. You must make the offer as compelling as possible to convince visitors to give you this personal information.
One way to do this is by providing a clear benefit that gives visitors an incentive to give you their e-mail address. For example, offering a free report (with an irresistible title), a free newsletter, a free course or service, or a few chapters of your book in exchange for contact information is a proven way to boost your lead count. There is no doubt that your opt-in pages are one of the most important pages on your website.
4. Thank-You Pages: Priming the Repeat Customer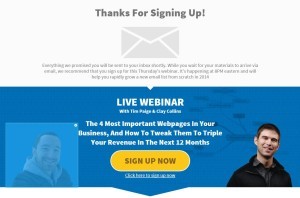 Your thank-you pages are also one of the most important pages on your site because they help prepare the customer for the next purchase. The customer already has an interest in your product or service, they are comfortable with the e-commerce process, and they are comfortable with your website in general. In other words, this customer is primed to become a repeat customer and hopefully a loyal one.
Pages on your site should always take full advantage of high visibility. Since the thank-you page is one of the most important pages on your site, it should never be a dead end. This is a great time to offer an up-sell such as a complementary product, an add-on product, or coaching program. If prospects are already interested, why not offer valuable content to keep their attention? Special coupons and sales are also popular methods for creating repeat business.
5. The 404 Page: A Surprising Member of the Most Important Pages on your Website
Despite the best efforts of designers and user experience experts, users will sometimes come across an error on a site.
The right copy can play an important role in effective error messaging since it's easy for the user to feel like he or she has done something wrong. Most custom 404 pages are somewhat apologetic in tone and present a series of links so the user can find what he or she originally was looking for. The 404 page is one of the most important pages on your website because it can become yet another opportunity to gather information, create leads, and educate prospects.
The surprising number of hits a 404 page gets makes it a prime design opportunity to direct the user and reinforce your brand. Many companies are ditching the typical 404 error message and transforming this page into an opt-in offer. Instead of simply telling the user that there was an error, why not offer free content? Offering free content can help you turn an error page into one of the most important pages on your website. Third party services such as LeadPages can help you create a seamless opt-in opportunity without the hassle of designing the page in-house. You can choose from a variety of templates to meet the needs of almost any type of business.
What else? Was there anything else you expected to see on the list of the most important pages on your website?
Share