Our Free Total Market Domination™ MP3 download, will teach you
When you download your Free Total Market Domination™ MP3s, I am going to share some eye-opening information that can totally change the future of your business. I'm not blowing smoke. It's the real deal and I'm going share some very specific information that will sincerely provide you the opportunity to double or even triple the revenue for your business in the next year.
Here's the shocker: Everything you have ever learned about marketing is erroneous… it's wrong.
I'm going to walk you through the ten point marketing system named "The Total Market Domination Program" that will give you such an advantage over your competition that you will totally dominate in your market niche. However, before I explain each of the ten points in The Total Domination Program, I'd like to take just a minute or two to explain to you what makes Strategic Marketing Consultants truly unique amongst marketing agencies and why it matters to you.
Free Total Marketing Domination™ MP3
Here's what you need to know before we dive in. Do you know the difference between Strategic Marketing vs. Tactical Marketing?
Strategic Marketing has to do with what you say, how you say it and who you say it to. In other words, it's the content of your marketing message.
Tactical Marketing is the execution of your strategic marketing plan as far as content marketing, Search Engine Marketing (SEM), generating leads, placing media, creating marketing tools and implementing a follow-up system. In other words, it's the medium your message is delivered in.  
The distinction between Strategic and Tactical Marketing is huge. Most people mistakenly assume that when you talk about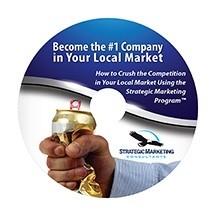 marketing that you're automatically talking about Tactical Marketing – building a website, running an ad campaign, generating leads, sending out mailers, attending trade shows, creating brochures, implementing a follow-up system and so forth. They fail to realize that the strategic side of the coin – what you say, how you say it and who you say it to – is nearly always MORE important than the marketing medium WHERE you say it.
However, what I want to share with you on these Total Market Domination™ Program MP3s will help you become more proficient in BOTH of these areas.
In our work, we focus on the actual content – that is the marketing message that you put in your ads. Most marketing companies try to be creative, cute or entertaining, but at Strategic Marketing Consultants we tap into Rich Harshaw's Monopolize Your Marketplace (MYM) system to ensure maximum results. The Monopolize Your Marketplace system forms the foundation of our Strategic Marketing program which is essentially the only marketing program which is based on the real world instead of gimmicks or creativity. It is a scientifically-based marketing system that when implemented properly causes your prospects to draw the conclusion: "I'd have to be absolutely CRAZY to do business with anyone else but you, regardless of price." For example, if someone is looking at a ten online ads from businesses in your industry and they're contemplating – 'why should I choose your business instead of one of your competitors?' Well typically, the answer is that they wouldn't make a decision solely based on the advertisements alone because virtually all ads are chock full of the same boring platitudes and generic contents that prospects cannot figure out who offers the best value. So, what do they do? They click on ads and checkout their website or social media channels, or even call around and ask that same dreaded question – How Much do you charge or how much does it cost?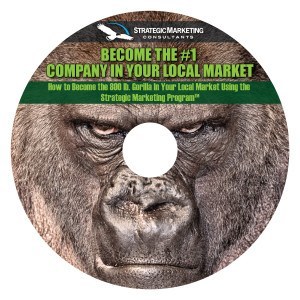 Are you tired of always having to compete on price? It doesn't have to be that way. The information I share on these MP3s will be so powerful it will be like you've been marketing in the dark for all these years and suddenly someone turned on the lights. I'm the one who will be turning on the lights and providing you with an overview of our Strategic Marketing System that can and will enable you to become the #1 company in your industry and market in the next year.
You can now listen to or download our 4-CD/MP3 set here https://www.strategicmarketing-consultants.com/total-market-domination-cd-set/  These MP3s contain much of the same content and are easier to consume.  You can load them on your smartphone or favorite MP3 player and listen to them at your convenience.
After you have listened to them, your next step is to schedule a free consultation.