3 Things You Should Never Say In Your Marketing
There are 3 things you should never say in your marketing that I guarantee you are currently saying.  However, there really aren't three distinct phrases, but I do have three evaluations you can use to help you detect whether or not you are using them in your current marketing copy.
One of the main reasons why prospects can't tell the difference between you and your competitors is because every company in the marketplace, including yours, uses platitudes in their marketing.  So, what is a platitude?  According to the online Free Dictionary, a platitude is a trite, dull, obvious remark or statement, especially one expressed as if it were original or significant and therefore lacks any power to evoke interest.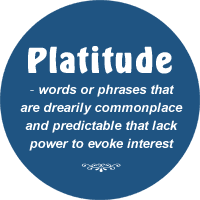 Platitudes are overused or repetitive that nevertheless are stated as though they were original or significant.  Let me repeat that definition so that it really sinks in.  Platitudes are words or phrases that are drearily commonplace and predictable that lack power to evoke interest through overuse or repetition – that nevertheless are stated as though they were important or relevant.
In advertising, you hear and see platitudes all the time.  In fact, you'll hear or see them every time you see an ad because that's what ALL ads have in them, including the ads that you are running right now.  You'll hear things such as Georgia's leading brand, state-of-the-art manufacturing, highest quality, quality workmanship, lowest prices, best service, most convenient, we show up on time – every time, widest inventory, a drug-free workplace, focused on customer service, experts in, specializing in, standards of excellence are unmatched, quality oriented, top quality work.  Have you ever heard any of these before?  We've been in business since 500 B.C. and all that other blah, blah, blah.  Now I'm not implying you shouldn't actually be any of those things – of course you should — but I am saying that you shouldn't use those platitudes in your advertising.
But why not?  Well, think about it for a moment.  If your ad says that you have the highest quality and outstanding service, is that beyond predictable?  Of course it is.  Doesn't it lack the strength to evoke much interest through repetition and overuse?  Have you nevertheless stated it like it was seriously significant or even original?  Is your marketing showcasing your true identity?  Can you communicate your identity when you mention superior quality and outstanding service?  Nope.  Can you demonstrate to prospects your real capabilities when using platitudes?  Of course not!  It's impossible.  The outcome of all of this is a perception that you're what?  Yep, pretty much like everyone else – especially your competitors.  There's no identity or differentiation, absolutely nada.  It's simply impossible to portray your identity to the marketplace using platitudes.  So, if you've ever felt like you are much better than any of your competitors, but you're the best kept secret around, chances are very high that you could be the Master of the Platitudes.  In fact, if you've ever run any advertising piece of any kind – EVER, chances are it was littered with platitudes.  Don't believe me?  Then go grab your advertising and marketing materials right now because I'm going to give you with a set of evaluations in just a minute that will objectively verify that what I'm saying is true.
Dude, this is not my opinion. This is objective observation.  However, keep in mind that I'm not here to offend you or hurt your feelings, but if you really are committed to tripling your revenue, you must listen to this and check out your own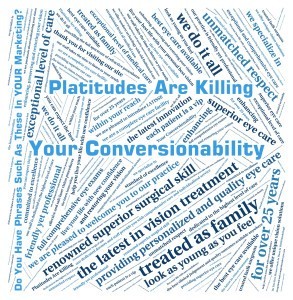 advertising .  Even if it makes you uncomfortable.  So, you tell me.  Do you agree that the definition of platitudes describes most marketing and advertising today?  Or doesn't it?  The reality is that virtually all marketing, including brochures, websites, direct mail, email, radio, TV, signage, on hold messages, billboards, trade show booths, anything and everything else you can think of, but do you know where there are more platitudes than anywhere else?  In the Yellow Pages!  That's right.  Believe it or not, some people still do use the Yellow Pages.  There are so many platitudes in the Yellow Pages that they should be called the 'Platitude Pages'.  Go ahead and open up the phone book right now and you will see that all ads are filled with platitudes.  This is why every ad stinks and the reality is that nobody really knows any better.  And I mean nobody, including you or your competitors.
And these private specialty publications and services that are designed to "educate" you on which providers are "certified" or "trusted" such as Home Reports, Trust Dale, Home Advisor or Service Magic are all full of platitudes!  How is anyone supposed to know which of these 'certified or trusted' providers are the best for your particular project?
However, let me ask you a question.  What if you were the first company in your industry to figure out how to do this RIGHT?  What would that mean for your local business?  Just think about it.
But, before we move on, I want to share three evaluations with you that you can use right now to test whether or not your existing marketing material has platitudes in it or not.  Ready, here we go.
Platitude Evaluation #1 is simply "WELL, I WOULD HOPE SO."
When you boldly state a claim, don't think about it in the terms of how it makes you feel good.  Of course it feels good to say that you offer outstanding quality or speedier results or something like that.  Rather, I want you to think about it from the prospect's point of view.  Then, you'll realize how ridiculous most platitudinous claims sound.
When you say something, ask yourself if your prospect will immediately think to themselves, "Well, I would hope so."  For example, as I look at a couple listings for air conditioning contractors in a "Trust Dale Certified" book, one says, R.S. Andrews provides repair, maintenance, and installation of air conditioning and heating equipment as well as indoor air quality products and air duct cleaning.  "Well, I would hope so."  You're an air conditioning contractor for crying out loud.
Look at what this contractor puts in his ad to convince his prospects to choose him out of the other 5,000 air conditioning contractors in the area.  Casteel Services, maintains and replaces air conditioners, heat pumps, furnaces, air handlers, humidifiers, de-humidifiers, zone products and indoor air filtration products.  Well, I would certainly hope so."  Really, what do you think they're going to say?  How about "Already known throughout the industry for providing "world class service" for more than 20 years, this award confirms Casteel's true commitment to providing unmatched service to its customer."  It's another platitude fest.  It's drearily common.  It doesn't have any compelling language to evoke interest, is overused and repetitious, and it was nevertheless stated as if it were original or had significant meaning.  You know what?  Every single listing in this heading and every other heading in the Trust Dale book is full of nothing but platitudes.  Sure, there are a few exceptions about how one company won an award for this or that, but competitors have also won awards from their respective manufacturers, counties or cities.
Furthermore, I can virtually guarantee that all of your marketing materials are loaded down with all of these platitudes right now.  However, to further illustrate, let's move on to the second platitude evaluation.
Platitude Evaluation Number #2 is "WHO ELSE CAN SAY THAT?"
Now listen closely to what I just said.  I'm not asking who else can do what you do but what other businesses can say what you say.  And in reality the answer is almost always Anyone and Everyone.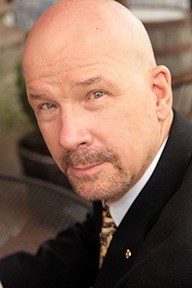 To examine this closer, let me share with you one of the great illustrative stories that Rich Harshaw shared in his book Monopolize Your Marketplace.  He recalls a time when he consulted an automobile repair shop that stood head and shoulders above all of their competition in the auto repair industry in a particular market.  Their outstanding claims included 10 mechanics — who were all ASE certified in all eight areas of specialization.  They had twice as much top notch diagnostic equipment as any of the dealerships, and their floors were so sparkling clean you could practically eat off of them.  They turned around 96% of their repairs in under a day and they unconditionally guaranteed all repairs for one year.
Have you ever called a shop to check on the status of your vehicle?  Instead of being put on hold for eternity like you normally get at a dealership or a typical repair shop, the manager would connect you directly to the actual technician working on your car and he'd tell you personally how the repair was going.
They had a waiting room that included a clean playroom for the kids, free soft drinks and snacks, magazines that were always current (imagine that), and bathrooms that were cleaner than the ones that you may find in your house.  Their dedicated service was second to none, but, they had significant marketing issues.  Even though no one could  even come close to performing – let alone out-performing their operation — at their top tier level, their marketing and advertising looked virtually identical to all their less competent competitors.  The business' website, for instance — which is where a lot of their business was coming from — stated the same type of generalities and tired platitudes as everyone else.  "Foreign and domestic car service, ASE certified mechanics", and the typical long list of expected services offered — from brakes to AC service to transmission services and — get this – they accept Visa or MasterCard.  Well, isn't that amazing.  NOT.
If you remember what I said a minute ago, then you'll probably already realize that this falls into the "Well, I would hope so" evaluation, but next ask yourself this question.  "Who else can say that?"  Well, Rich asked the owner and service manager the big obvious question, and the service manager started getting perceptibly upset.  He said, "There's no one else that can even come close to us. The dealerships bring their cars to us when they can't fix them.  Our mechanics are without a doubt the best in the city.  Nobody, and I mean nobody, can say what we say. "
This guy was getting really bent out of shape about it.  So finally, to make his point in a civil way, Rich had them get on their computer and do a Google search for "Car repair in their area", and see for themselves what competitors were claiming on their websites.  Well, let's just say that the owner's jaw dropped for what seemed like a couple of minutes before he pointed at one of the websites and said to the service manager, "Look, I know this guy and he's awful but his site says virtually the same thing that ours does."
In fact, he was sure they copied his site's layout and exact text.  He clicked on more of the listings and saw that all the sites were virtually the same as theirs.  There was no way to deny it, especially not while staring at the evidence.
Remember, it's not what you can do.  It's who can say what you're saying.  Take a look for yourself.  What are your competitors saying?  If I were a betting man, I'd bet that they are saying virtually the same as what you're saying.  And this leads me right into evaluation #3.
Platitude Evaluation #3 is the "Scratch Out/Write-In Test"
Okay, so here's the final quick platitude detection evaluation.  Then, we need to move on.  It's called the SCRATCH OUT/WRITE IN TEST.  So, look at your marketing materials — your website, your brochure, your direct mail campaign, your Yellow Page advertisement, if you still have one and any other ads you have in play.  What I want you to do is scratch out your name and write in the name of your boldest competitor.  If the ad is still fits, if no major changes would need to be made, then you just failed this test.  Now here's the eerie part: take your competitor's ad and cross out their name and write in yours.  Do this exercise after you watch this video, it can be quite revealing.
Well, I hope you got all of that, if not, you can simply re-read this or watch this video again later.  The idea to keep in mind is that platitudes are the #1 cause for abysmal returns on your advertising investment because everybody and I mean virtually EVERY business is using them.  When you work with Strategic Marketing Consultants, we fix this problem for you.  Remember, no other marketing agency around is going to fix this problem for you.  Why?  Because they are usually the source of the problem.
Next, you may want to request a Free Marketing Leverage Analysis