Strategic Marketing Consulting Says:
NEVER  go to a website designer
and ask them to design or redesign your website.
NEVER go to a traditional marketing firm
and ask them to design or redesign your marketing materials.
NEVER go to a traditional ad agency
and ask them to design or redesign your ad campaign.
WHY NOT?
Because NONE of them knows or even cares about what your IDENTITY is.
Here at Strategic Marketing Consultants your IDENTITY is something much deeper than a Unique Selling Proposition (USP) but it's close to your 'brand identity.'  Your identity communicates to your prospective customer why they should do business with you rather than one of your competitors.  Let's face it, there are likely anywhere from a dozen to hundreds of companies that do what you do, sell the products you sell, or provide the services you provide.  What we're looking for is that "Identity" that communicates 'We're the obvious choice to do business with'.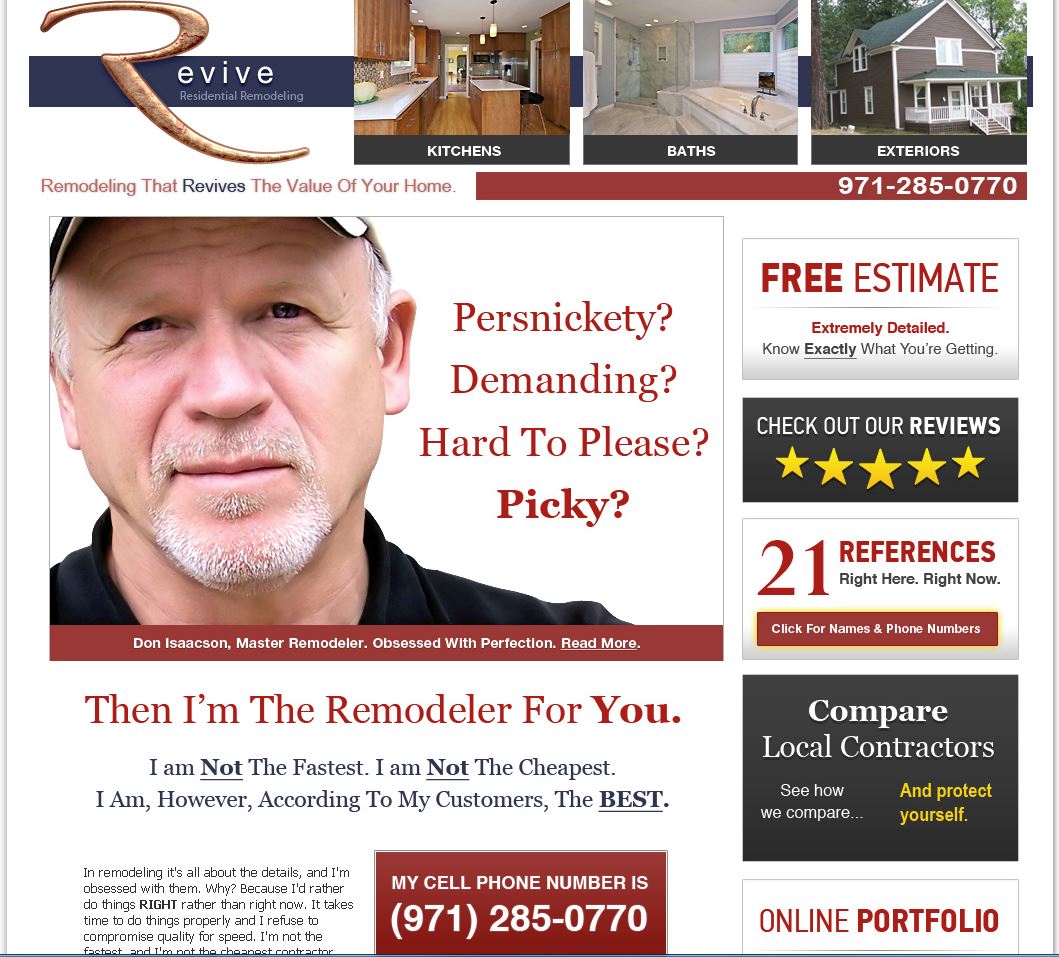 This home remodeler's 'Identity' is pretty clear, wouldn't you agree?
Your 'Identity' connects with the deep needs or wants of your prospect.  Your 'Identity' communicates who you are AND who you are not.  Your 'Identity' is powerful.  It draws a line in the sand and says "This is what we stand for."  "This is what we do and this is how we do it."
At Strategic Marketing we believe building a beautiful website these days is pretty much a commodity.
Getting your website to show up on the first page of Google and/or other search engines is not all that difficult. It does take time, money, and persistence. However, staying there is difficult. Why? 
It's because all search engines want to provide their users with the most relevant, effective, and worthwhile content that they possibly can; in fact their very existence depends on it. And this goes the same for both organic listings and Pay Per Click (PPC) advertising. Even if after a period of time your website or your ad lands on the first page of search results, Google is going to know how many people click on your listing; how long they stay on your page; how many pages they view on your website; whether they gave you their email address in exchange for something valuable such as a report or video. Google knows ALL. They know if visitors bounce… i.e. go to your page and quickly hit the back button or click away to another site.
Google will keep web pages on the first page of search results that have great visitor retention (stickiness) and/or interaction with the site; ones where visitors engage with, spend time on them, and interact with them. If visitors bounce – your site will quickly fall off the first page… never to return – unless you improve your conversionability and your engagement with site visitors.
So how do you fix this? It all starts with your Identity. The definition of Identity is: Words, Phrases, and images – articulated with Power, Precision, and Passion – That Instantly & Definitively Communicates Who You Are, What You're All About. And What Customers Can Expect When Doing Business with You.  It's not your logo, tagline, or other creative gimmicky jingle.  It is powerful, important, and relevant content articulated with passion that communicates precisely why they should do business with you rather than any of your competitors.
You may be familiar with the saying "If you want to know why Pat Smith buys what he/she buys, you've got to see the world through Pat Smith's eyes."  Take a look at your own marketing and advertising. However, you have to look at it from Pat Smith's perspective – which is hard for most business owners or marketers to do. Think about it this way. If you were "Pat Smith" who had never heard of you or your company before; you know absolutely nothing about the business until you encounter your marketing or advertising – as Pat Smith would you be able to INSTANTLY and DEFINITIVELY know?
Who you are?
What you're all about?
And what he/she can expect when doing business with you?
If not, you've got your work cut out for you, and this is where we can help. This is part of what we do. Today Digital Marketing forms the core of virtually every business in the world. Your website is first and most important visible component of your overall Digital marketing strategy.
Let me ask you a question…
Why do you have a website to begin with?  And for those businesses that don't have one… You're missing out on the most powerful marketing tool the world has ever known!  SERIOUSLY.

What is the purpose of your website?
At Strategic Marketing we believe your website is the most powerful marketing tool in your arsenal. The purpose of your website is to attract, interact, engage, and capture leads, prospects and sales. Any lead or prospect that does not buy initially will be entered into your lead nurturing system and over time you will feed them with targeted educational materials that will eventually cause them to come to the conclusion that you are the obvious choice to do business with.
To get an overview of the Five Fundamentals of the Strategic Marketing Program™, watch the above main video.  You may then want to watch some of our other videos to quickly learn more about how we are different from virtually every other marketing consulting company.
What to do next: